Well, We've returned from London and the 2nd Unified ITF World Championships as the Winning World Champion Team!  I received word direct from Master Sahota and the Organising Committee just before we left London that Unified ITF Australia beat out UKGT by one Gold Medal to become Overall Winners (16 Gold Medals to 15 Gold Medals respectively). A Big Congratulations to All 18 Competitors and of course our Supporters (bringing the total Team number to 33), many of whom traveled at great expense to contribute their excitement and cheers in person.
Of special commendation, Mr Shannon Purser who stood in as the Australian Coach at late notice,Mr Alfio Viscuso for his help in getting the Team underway, Also Mr John Sutherland for contributing his tenacity (and patience?) in getting the Team to and from London this year as well as our Seniors, Sabums Nigel Paul and Amanda Morrison, along with Boosabums Paul Bailey, Deb Vertessy, Matthew Purser and Adam Purser for their prior experience and mentoring.  Many thanks also to Luka Vertessy and Riley Burgess who contributed their time and expertise in collecting our memories so the rest of us could get the job done.
Although I wasn't personally able to compete, my late withdrawal was covered by Sabum Nigel Paul from Townsville who in no small way contributed to our eventual success.  Mr Paul kept the Veteran Team Events in contention and as it turns out would be pivotal in keeping Australia's Competitive advantage in tact heading into the Championships.
In total, we brought back 69 Medals from 26 podium places (71 if we include my and Mr Paul's Honorary Gold Medals for Jury President and Refereeing services) along with 6 Champion of Champions Trophies.  This betters the 68 Medals retrieved from Last World Championships Team, we note this year's figure was accomplished with 3 fewer competitors on the floor, a worthy feat in itself and one we hope to better come Argentina...!!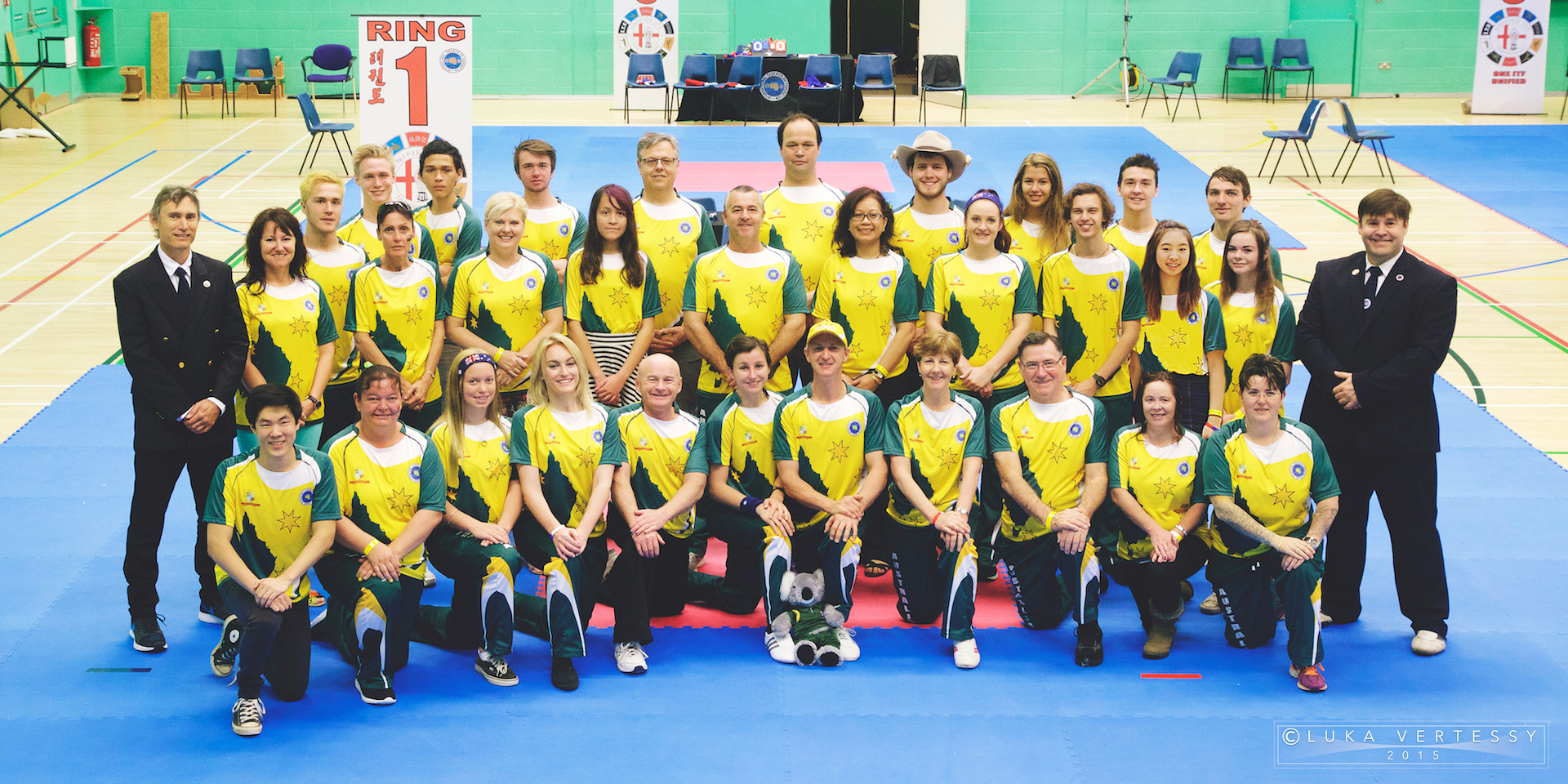 Final Medal Tallies for the Australian Team are as follows:
Junior Male Gup Blue-Red Pattern
Bronze Medal
NOAH AZIZ-PARKER AUSTRALIA
Junior Female 1st Degree Pattern
Bronze Medal
CAITLYN JONES AUSTRALIA
Junior Female >60kg Sparring
Gold Medal
CAITLYN JONES AUSTRALIA
Senior Female Gup Blue-Red Pattern
Silver Medal
MONIQUE SMITS AUSTRALIA
Senior Female 2nd Degree Pattern
Gold Medal
KRYSTI ROSMALEN-BRINKLEY AUSTRALIA
Senior Female 4th Degree & ABOVE Pattern
Bronze Medal
AMANDA MORRISON AUSTRALIA
Senior Female <70kg Sparring
Gold Medal
COURTNEY CAMPBELL AUSTRALIA
Senior Female <70kg Sparring
Silver Medal
STEPHANIE BRACKS AUSTRALIA
Senior Female Power
Gold Medal
AMANDA MORRISON AUSTRALIA
Senior Male 2nd Degree Pattern
Silver Medal
MATTHEW PURSER AUSTRALIA
Senior Male 2nd Degree Pattern
Bronze Medal
BRADLEY JAGGERS AUSTRALIA
Senior Male <71kg Sparring
Gold Medal
WILLIAM VERDIN AUSTRALIA
Senior Male Power
Gold Medal
ADAM PURSER AUSTRALIA
Senior Male Special Technique
Silver Medal
WILLIAM VERDIN AUSTRALIA
Veteran Male 1st to 3rd Degree Pattern
Silver Medal
SHANNON PURSER AUSTRALIA
Veteran Male 4th to 6th Degree Pattern
Gold Medal
NIGEL PAUL AUSTRALIA
Veteran  Male Power
Gold Medal
SHANNON PURSER AUSTRALIA
 
 
 
Senior Female Team Pattern
Gold Medal
AUSTRALIA
Senior Female Team Sparring
Gold Medal
AUSTRALIA
Senior Female Team Power
Gold Medal
AUSTRALIA
Senior Male Team Pattern
Bronze Medal
AUSTRALIA
Senior Male Team Power
Gold Medal
AUSTRALIA
Senior Male Team Special Technique
 Gold Medal
AUSTRALIA
Veteran  Male Team Pattern
Gold Medal
AUSTRALIA
Veteran  Male Team Power
Gold Medal
AUSTRALIA
Veteran  Male Team Special Technique
Gold Medal
AUSTRALIA
 
 
 
Male Senior Overall Winner
 
WILLIAM VERDIN AUSTRALIA
Male Veteran  Overall Winner
 
SHANNON PURSER AUSTRALIA
Male Team Overall Winner
 
AUSTRALIA
Female Team Overall Winner
 
AUSTRALIA
Male Veteran  Team Overall Winner
 
AUSTRALIA
 
 
 
Overall Winning Team for the 2nd UITF World Championships
 
AUSTRALIA
 
 
 
Total Awards:
Gold Medals
16
 
Silver Medals
5
 
Bronze Medals
5
 
Champion Trophies
6
 
Individual Awards:
Gold Medals
8
 
Silver Medals
5
 
Bronze Medals
4
 
Champion Trophies
2
 
Team Awards:
Gold Medals
8
 
Silver Medals
0
 
Bronze Medals
1
 
Champion Trophies
4
A note to the wider Unified ITF Family from around the world - Now that the Team and I are mostly back home, I've had ample opportunity to reflect.  I saw these World Champs from a very different angle for the first time, but despite not being a Competitor, I found this experience just as rewarding as competing.  I did what I could prior to competition for the Australian Team and then on as an Official to ensure these Championships were fair and unbiased, I have no doubt every Official from the runners through to our Grand Masters did too. This is not only my first International Umpiring assignment but also my first as the Unified International Taekwon-Do Federation's Tournament Committee Chairperson and I learned way more than I thought possible, gaining experience in an entirely new aspect with huge support from every level, starting with our Team along with all 570 International Competitors, through to the Unified ITF Administration and Organising Committee and their excellent support in this role, an adventure that's only just beginning and one I've found especially rewarding as much as it was at times hard and taxing.  I've come away learning a lot and we will carry over many of these lessons heading to the next Worlds in Argentina come 2017.  For all your good will, trust and effort we jointly invested into these Championships, I want to Thank you.  Our friendships reinforced and new friendships forged are their own rewards enjoyed.
On a personal note, I also want to thank all our Seniors and in fact, every member of the Aussie Team for coming together and creating a World Championship experience I never thought possible.  Although I wouldn't change any of my four earlier World Championship experiences (they do after all makes us who we are), this is honestly the first time I've been on an Australian Team that didn't have some sort of internal conflict or disruptive force detracting from our time together, and from many other international representative Teams attending this World Championships, they too noted the Australian Contingent especially friendly and supportive and that we (along with Argentina and a handful more) largely represented the spirit and good-will that a World Championship Event is intended to create.  Each and every one of you contributed to this and we've well and truly established a world reputation as The International standard setters in every respect and for that, I'm proud to be a part of this achievement - so to everyone on this Australian Team, Thank You.
Yours in Taekwon-Do,
Sabum Scott Bower